Resinous Flooring Systems, Concrete Floor Resurfacing, Concrete Polishing and Coatings
Resinous based flooring systems, such as urethane cement, are strong and well-known for their durability and chemical resistance. Epoxy-urethane flooring is the preferred finish for commercial and industrial applications in New Jersey and across the U.S. in warehouses, healthcare facilities, pharmaceutical plants as well as in the manufacturing industry.

A wide range of colors, textures and finishes makes high performance flooring the right choice in applications for appearance, durability, and chemical resistance. Urethane concrete seamless floors are commonly specified in food processing facilities, breweries, wastewater treatment plants and commercial kitchens. Whereas, resinous flooring options are regularly found in hospitals, parking garages, retail stores, shopping centers, stadiums, and others.
Whether in a new construction application, a renovation project or for a concrete repair, the proper application of a resinous floor finish is essential for long-term durability and an exceptional end product. The most important factor in ensuring the adhesion of an epoxy resinous coating is proper surface preparation. The correct preparation techniques require special equipment such as shot blasting, scarifying and diamond grinding.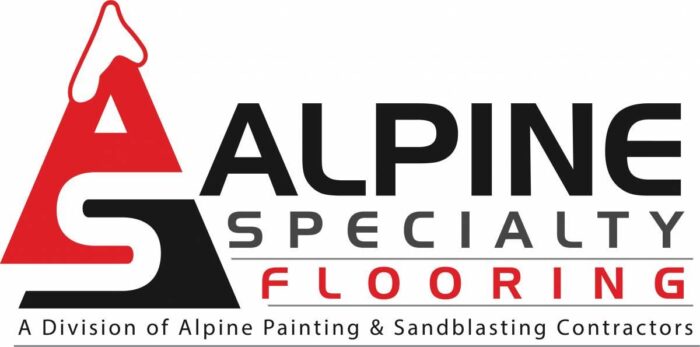 Alpine Specialty Flooring, a Division of Alpine Painting and Sandblasting Contractors of Paterson, NJ, has years of surface preparation and coating application experience in a wide variety of facilities. Factory trained crews handle every step in the process from preparing the substrate to application of a wide variety of epoxy, urethane, or quartz floor systems, non-skid coatings, line striping, clear sealers and concrete polishing.
As a non-union terrazzo flooring contractor, Alpine Specialty Flooring is able to offer the best possible end product, at the most competitive price.We have a proven track record in delivering a wide range of epoxy flooring and other specialty flooring solutions in the following industries:
Food and beverage production - Food Processing
Brewery flooring
Wastewater treatment
Hospital flooring
Sanitary/Seamless/Resinous flooring
Our company works with many of the major coating manufacturers when specifying a new high performance floor system including, Sika, BASF, Key Resin, Sherwin Williams/General Polymers (GP) and Dur-A-Flex. Some of our different solutions include urethane coatings, urethane mortars/concrete, anti-static, antimicrobial flooring, chemical resistant flooring, conductive flooring, concrete polishing, food processing, pharmaceutical flooring, decorative flooring and USDA approved floors as well as more traditionally styled terrazzo floors.
A reputation as a professional coatings resource makes Alpine Specialty Flooring the best choice for resinous floor surface preparation and coating applications. Alpine is a proud member of www.ISPE.org (International Society of Pharmaceutical Engineers) and NJ Food Processing Association. Contact us today to schedule a site walkthrough and receive a free cost estimate on epoxy flooring from one of our experienced professionals.