How to Accurately Estimate an Interior Commercial Painting Job
Posted Dec 28, 2020 by Dave Scaturro
There are many reasons why a business decides to repaint its interior spaces. One could be to bring new life to its location, while another could be to update its colors after a rebranding. Whatever the reason, a business should typically refresh its walls with new paint every 2 to 3 years. This allows the business to keep a fresh and clean look for customers and staff to enjoy.

Before making any decisions, having an idea of how much it will cost to repaint your business space is important. This will help you identify the right commercial painting contractor for the job, or decide if you'll need to take the project on yourself. Keep in mind that when you hire a professional for a painting project you are paying for both the supplies and labor that are required. And although it may cost you more, a business owner should consider having a professional do the majority of the labor since they will have more knowledge and expertise to get the job done right. If you are considering completing the job yourself, you'll need to take into account that specific tools and skills may be required for painting areas like windows, trims and doors.

How Much Paint Will You Need To Complete The Job?
When calculating the amount of paint that will be required for a job, you will need to measure wall space instead of floor space. A common mistake made is using the square footage of a room as the area to be painted when in actuality it is wall space that needs to be calculated. Wall space is measured by multiplying the length of each wall by its height and adding them together. In an office that is 14' wide x 14' length x 9' high, for example, you will have 504 square feet of wall space to paint.
Most paint manufacturers advise that their paint covers roughly 250-400 square feet per gallon, but it's a good idea to lower that square foot coverage a little to make sure you have enough paint. Then, multiply the coverage by 2 or 3, depending on the number of coats your project will need. Sherwin-Williams' paint calculator has a great online tool to help evaluate how much paint you'll need for a project.
Premium-quality paint typically costs between $35 – $50 per gallon. While you will save money by using cheaper paint, it won't have the finish or durability of a premium-quality paint. Multiply the total gallons of paint by the cost per gallon to get the total price for the paint. You may also want to add on the cost of brushes, rollers, paint trays, and drop cloths to your quote to get the total cost of materials.
The amount of paint needed will definitely play a role in how high your total cost will be as well as how long it will take to paint an area, keeping in mind that painting a dark wall a lighter color often requires several coats of paint. If you chose to work with a professional painter, you should schedule an onsite visit to discuss your vision of the new interior space and what areas you'll want painted. For example, will you want both walls and ceilings painted? This specific information should be discussed before any supplies are purchased.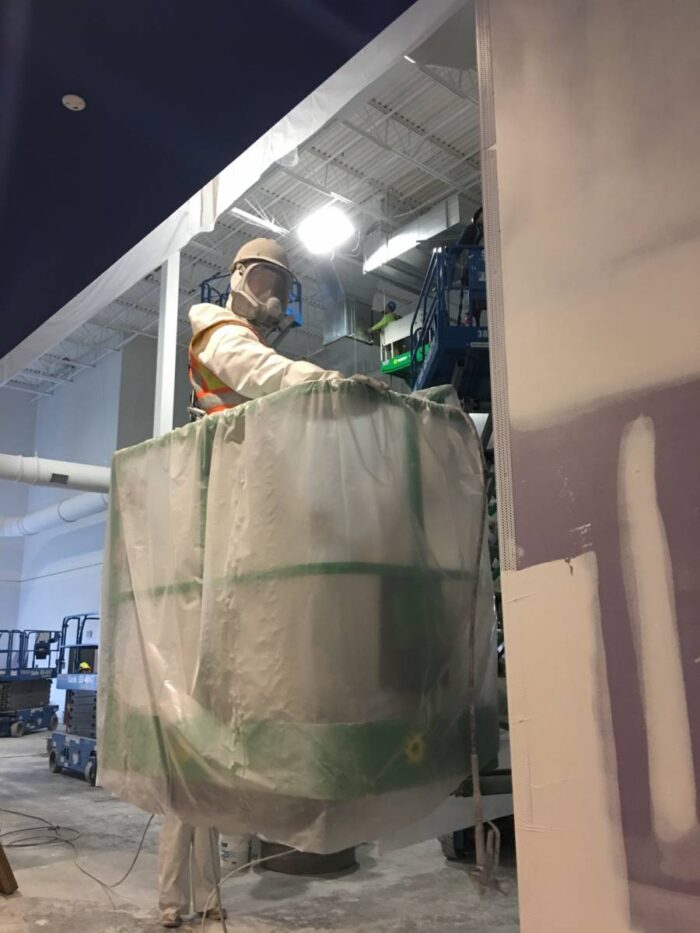 How Do You Estimate Labor Costs If You Choose to Work with a Professional?
Before you calculate the labor cost, you will need to determine how many hours a painter will need for the job. On average, a painter covers approximately 150 – 200 square feet an hour. To paint the walls with a two-coat painting system in a regular office (14' wide x 14' length x 9' high = 504 square feet) it will take him or her about 3.5 hours of time. (An average painter should be able to cover about 150 square feet an hour. If you divide 504 by 150, you get 3.36.)
In your estimate, you should also factor in time for getting the space ready for painting. Such tasks include: washing, scraping, caulking, treating problem areas and applying primer. Extra hours may need to be calculated for painting intricate trim details, repairing walls, smoothing textured walls, and safety tasks.
A professional commercial painting contractor will charge between $50-$80 per hour with today's rates, taxes, and insurance. Keep in mind that the painter has to cut in clean paint lines along all the edges of the room (ceiling, baseboards or floor, doors, and window frames, etc) using a brush, and then roll the walls twice with a paint roller. (In vacant or new facilities, sprayers may be used to go faster.) The cost of painting the walls with a typical brush-and-roll two-coat paint system should be around .45 cents per square feet.
It's important to note that your estimate should also include extra masking, major prep work (peeling paint, large cracks or holes), paint materials (quality and prices vary) or major furniture manipulation. Sometimes a photo of the space is enough to get a good visual of the required labor, but most times it is best to schedule an onsite estimate with a professional for a visual inspection.
Other Factors That May Impact Your Estimate
If you have textured walls, the amount and type of texture may or may not increase your cost. For example, orange peel texture is common and typically light, so it usually doesn't require additional charges unless there are a lot of repairs to get it looking even and consistent.
One thing to keep in mind is that when you opt for more texture, you may need to pay for more paint to cover your walls. Where one gallon might cover 350 to 400 square feet of a non-textured wall, a textured wall may require a gallon for every 250 square feet (or even lower).
Variations in price can also be drastic between paint manufacturers and this can impact your estimate. Some manufacturers may charge $14 per gallon, while others may charge up to $100 per gallon. The average cost for a good quality interior paint that will hold up to a few scrubs is $25.Typically, professional contractors will use a medium to a higher grade of paint for a commercial space.
Lastly, you should account in your estimate if your walls are in need of any repairs. Most painters include minor repairs, such as hairline cracks or nail holes, into their standard preparation and price. For larger damage, such as large cracks and holes, or warped drywall repairs, there will likely be an extra cost associated because of the amount of labor it takes to repair these areas. If you schedule an onsite visit with your commercial painting contractor (and we advise that you do), additional cost for larger repairs will be identified and discussed.
Ways to Keep Your Commercial Painting Cost Down:
Painting a single room can be considered a DIY project, but commercial painting jobs are rarely that simple. Taking the project on yourself will likely yield sketchy and unattractive results. Working with a professional painting company means you'll have great results and peace of mind as they will have the right tools, expert painters, and experience to do the job seamlessly. However, if cost is a concern, there are some things you can do to keep your estimate down even when working with a professional:
1. Prepare And Protect
As for the logistics, you can save your painting team time and effort by going about a little of the preparatory work yourself. Always remember that the quicker and easier it is for them to get the job done, the less you can expect to pay for it. For example, if you have the time and inclination to do so, you could remove any wall paper yourself. You could do things like remove all the furniture and fixtures from the respective space, place protective covers to shield everything in the vicinity and so on. Any good painting team will offer these kinds of services no-questions-asked, but there's nothing to say you can't reduce their labor cost by lending a helping hand.
2. Carry Out Repairs If Possible
The same also applies to any minor repairs that may need tackling around the space. If there are any small holes in walls for example, you could arm yourself with a batch of filler and make the repairs yourself. Keep in mind that this is only a good idea if you know what you're doing as a poor job will only create more labor for the painter.
3. Ask About Peak/Off-Peak Times
Depending on the team of painters you work with, you may find that they charge entirely different prices in accordance with different days and times. It all depends on the times their services are in highest demand, the most/least convenient times for the team to visit you, how much of a rush you are in and so on. This doesn't always make a difference as not all painting teams have peak and off-peak times. Nevertheless, there's no harm in asking.
4. Ensure There's A Warranty Included
Lastly, ask the professional painting contractor about the provision of warranties. The reason being that paying a low price could lead to touch-ups and re-dos a few weeks down the road. The whole point of hiring the pros should be to ensure you're left with an outstanding finish that lasts.
Request Your Free Estimate With over 45 years delivering experienced service and excellence, Alpine Painting and Sandblasting Contractors is unrivaled in its number of repeat customers. Our dedicated team is ready to take on your commercial painting project. Give us a call today!