SSPC
Alpine Painting & Sandblasting Contractors is proud to be a certified member of the SSPC, the Society for Protective Coatings. SSPC is a non-profit professional society focused on protective coatings for industrial steel structures. Alpine Painting became a certified member of the SSPC in 2012 with the intention of maintaining the highest and latest level of quality and safety standards in our industry.
Through the use of high-performance protective marine and industrial coatings, SSPC serves to protect and preserve concrete, steel and other industrial and marine structures such as boats, ships and ship bulkheads for example. SSPC's role in the industrial steel structure industry is to provide the latest information on surface preparation, coating selection, coating application, environmental regulations, and health and safety issues.
As a certified member of SSPC, we ensure that all of our jobs have a certified inspector on site and that our project managers maintain the proper paperwork for quality and safety control for each job. Alpine Painting is pleased to say that we are the one of two companies in the country to maintain all five of the following QP certifications: QP1, QP2, QP8, QP9 and QS1.
QP 1 evaluates contractors performing surface preparation and industrial coating application on steel structures.
QP 2 as a supplement to QP1 evaluates the contractor's ability to perform industrial hazardous paint removal in the field. Two QP 2 categories are obtainable based on the type of equipment and the type of containment.
QP 8 certification evaluates the qualifications of contractors hired to install polymer coatings or surfacings on concrete and other cementitious surfaces in commercial, institutional, and industrial facilities.
QP 9 evaluates the qualifications of painting contractors who apply architectural coatings on commercial or institutional structures, and outlines a minimum standard for qualification.
QS 1 encompasses the in-process inspection of surface preparation and application of protective coatings and linings for new construction and maintenance for industrial, commercial and marine service.
Whether it be a heat exchanger or a marine bulkhead; an apartment complex or a church; or anything in between, we have the certified people for the job.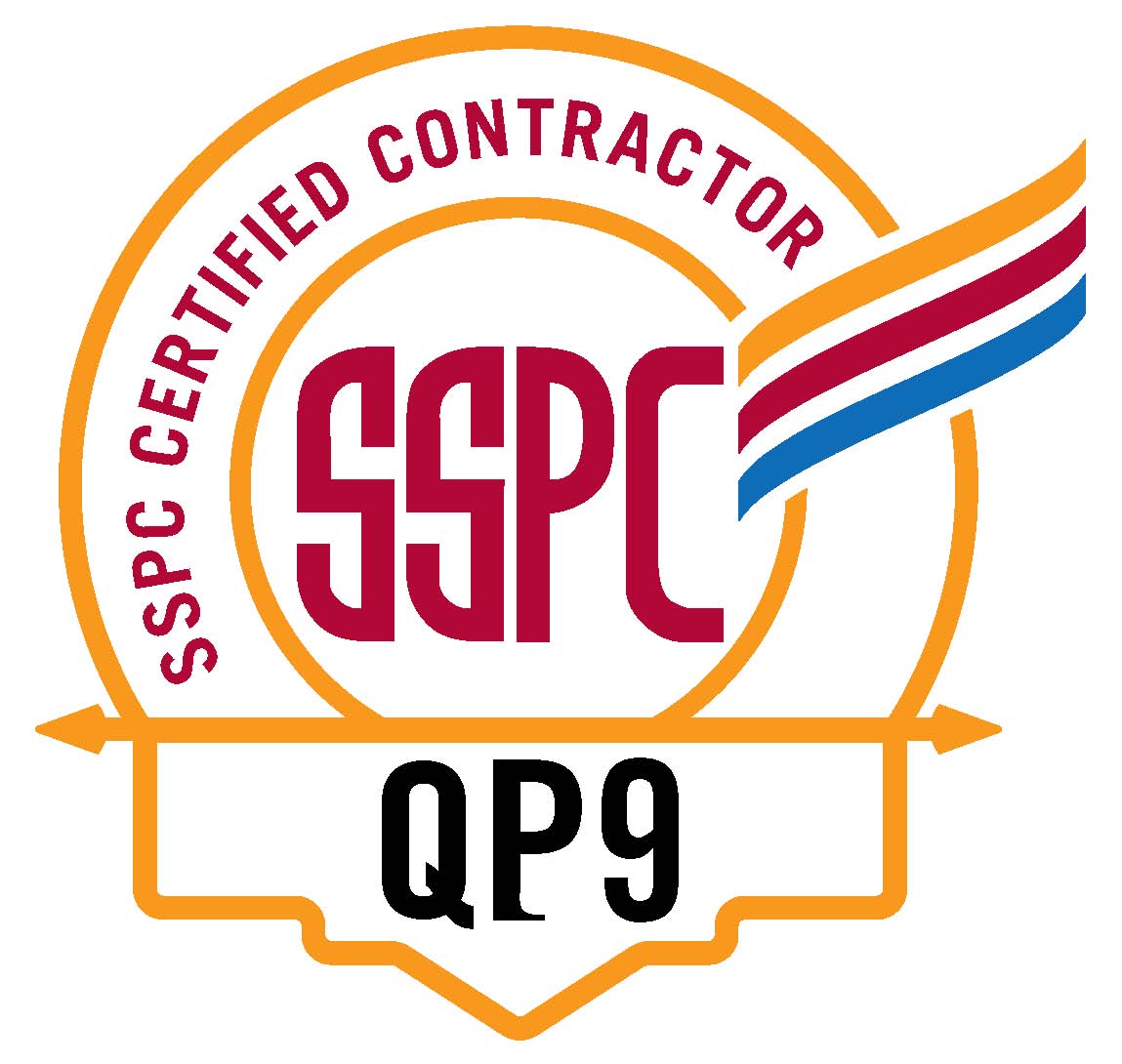 PCA
Alpine Painting & Sandblasting Contractors is also proud to be one of a very select group of accredited PCA painting contractors in the country. Alpine was awarded full PCA Accreditation by completing all coursework and submitting all necessary forms through the Painting Contractors of Association. This PCA Accreditation has been held by Alpine since 2007. According to the PCA, this accreditation signifies Alpine Painting's excellence in company management, as well as a passion for continuing education. Our employees partook in numerous courses regarding topics as diverse as new technologies, environmental concerns, safety issues, and successful business practices to earn this accreditation, and information learned was passed along in employee meetings to ensure everyone is kept up to date.
The PCA defines its Accreditation as a way for painting and decorating contractors to strive for excellence and distinguish themselves as a leader in this competitive industry, a quality that Alpine Painting has always prided itself on. Alpine is one of only 100 currently PCA accredited Painting Contractors in the United States, putting us in the top percentile of contractors across the country. Our accreditation also requires us to stay up to date on all things in the painting industry, so you can rest easy knowing Alpine's history of excellence will continue far into the future.
To become accredited, companies must complete these base education requirements:
Building a High Performance Organization
Business: Building a Powerful Business Strategy
Business: Managing for High Performance
Business: Marketing Strategy
Technical: Application
Technical: Coating Technology
Technical: Color
Technical: Environment
Technical: Paint Types and Manufacture
Technical: Safety
Technical: Specification
Technical: Standards
Companies must also provide the following documentation:
Business License
Cash Flow Projections
Contractor License
EPA Registration
Estimating Procedures
Federal Tax Identification Number
Five Year Business Plan
Mission Statement
Proof of Insurance - Auto, Liability & Worker's Comp.
Safety Plan
Sample Budget