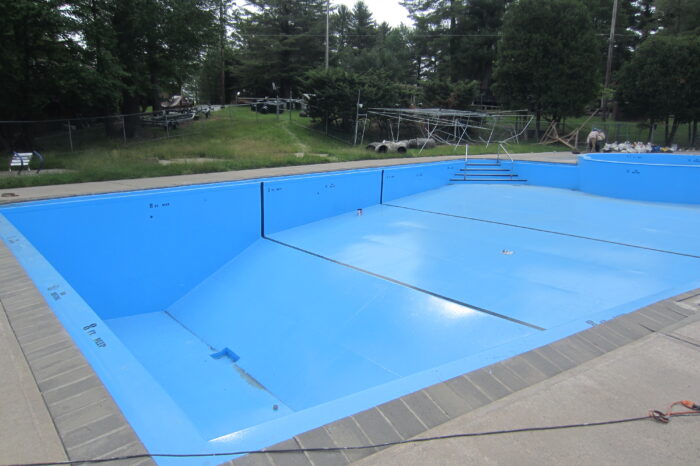 Protective Paint Coatings for Swimming Pool Immersion Surfaces
To maintain the visual appeal and cleanliness of your swimming pool, routine maintenance is required. Beyond adding chemicals to keep the water safe to swim in, pool managers/owners must maintain the paint coating to ensure the swimming pool's integrity.
Correctly painting a swimming pool is not as easy as one might think, experienced and professional contractors are definitely recommended. The existing paint coating must be evaluated to ensure compatibility with the new type of paint to be applied. Proper concrete surface preparation including acid etching and neutralization of chemicals is vital to ensure paint adhesion to the pool surfaces. Additionally, moisture vapor transmission testing and expansion joint evaluation is highly recommended before painting. The applied paint must be adequate to handle immersion and chemical resistance. The coating must have adequate cure days prior to the pool being filled with water. These are just some of the concerns that are involved with a successful pool painting project, and potential problems such as these have to be taken into consideration when estimating the cost of the project.
If the existing swimming pool paint coating is severely peeling or failing, sandblasting is recommended. Alpine's team perform lead testing and discuss the procedure with the swimming pool owners prior to completing the project. Our team evaluates expansion joints, coping and the integrity of your concrete or granite swimming pool surface. Often our customers rely on our experience for code enforcement signage sizing/location or for accurately laying out lap line striping.
With an offering of more than 50 specialized services, swimming pool resurfacing and swimming pool painting is one of our earliest areas of expertise. Alpine Painting and Sandblasting Contractors has successfully completed hundreds of swimming pool restoration projects in New Jersey and across the tri-state area that keep swimming pools looking brand new.
Whether a residential swimming pool, municipal/town pool, or a water park, our company has the painters, the equipment, and the knowledge to correctly prepare and paint your pool the first time without any problems. Our vastly experienced swimming pool painters have received outstanding reviews for our track record of delivering high quality work on time, and within budget.
Contact us today to arrange a quote for your next swimming pool painting project.