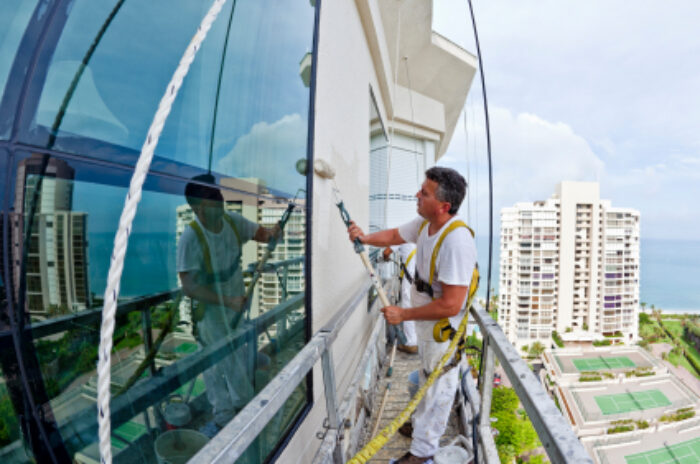 Cutting Large Projects Down to Size
The sheer height of some high rise painting projects can make them a logistical nightmare. These complicated projects require not just knowledge of painting, but also scaffolding and other skills not commonly required by your average painting job. Luckily for you, Alpine has trained professionals that will be able to take care of your every need in all of your High Rise Painting jobs.
A high rise project can be a daunting task for some, but here at Alpine we have experience working on these types of projects and can work with you to make sure that everything is in order before your project starts so that there are no complications later on. Our team will work with you from start to finish to make sure every detail of your project is completed exactly how you want it.
Our high rise painting services are perfect for new construction, as well as any type of restoration project. Our experienced craftsmen are skilled working with scaffolding, rigging, and suspended access equipment, so we will find a way to work with the layout of any facility. We can work on exteriors, including balconies, as well as interiors, including hallways, stairwells, and lobbies. In addition to painting services, we can also offer elastomeric coatings, caulking, and waterproofing service for all of your high rise projects
If safety is a concern for you, just one look at Alpine's excellent safety record will let you know that you are in good hands. Alpine will work hard to ensure the safety of not only our workers, but also the building tenants, pedestrians, and traffic below. We can also provide specialty coatings to ensure that your high rises won't just be getting a visual overhaul, but are also being protected for years to come.
So call Alpine today and talk to one of our skilled sales representatives to determine how Alpine can help serve your high rise painting needs.