Optimal Time for Exterior Painting Projects
Posted May 04, 2020 by Dave Scaturro
Everyone may agree on the one thing that unites all businesses throughout the nation right now. But, commercial development has not slowed down despite recent events. Alpine Painting's experience with working in extremely diverse locations all year round from high-end commercial properties to industrial painting in confined spaces makes us uniquely qualified to help. It goes without question that the health and safety of our customers and employees is our highest priority. We take every precaution necessary and are equipped and passionate about every project we work on.
Our teams are currently scattered across the Tri-State area dividing and conquering our customers' exterior painting, coating, and maintenance needs. Here's a list of in demand services right now:
In Demand Exterior Maintenance Services
These are the most in-demand services right now!
Exterior Painting & Waterproofing
Vertical Joint Caulking
Rust Grinding & Coating of Structural Steel
Sandblasting & Abrasive Blasting
High Performance Flooring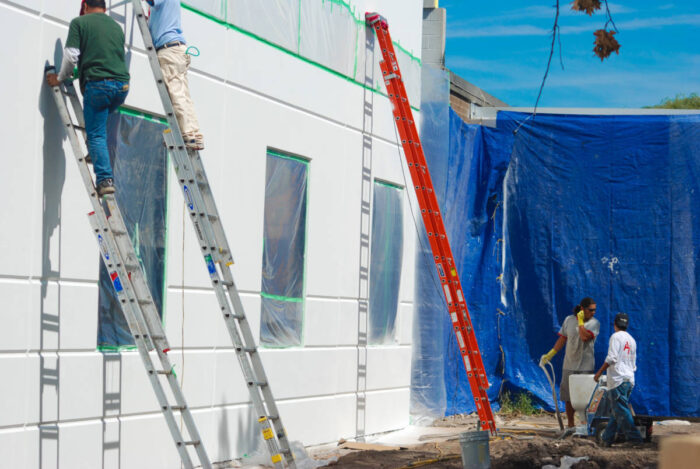 Catching Exterior Decay Early Pays Off
It has been an unpredictable start to the year forcing tough decisions to delay your maintenance projects, however experience has taught us that this may unwittingly create a larger problem that will require more time and resources to remediate. Currently, routine maintenance remains the most cost-effective strategy!
With today's paint technology it is more than just applying a fresh coat. Alpine Painting can help you protect your exterior surfaces, shielding against UV damage, moisture intrusion, pests, leaks, lost efficiency, interior damage, and much more! Saving you thousands in the long run.
Safety & Scheduling
Alpine Painting and Sandblasting team is taking the necessary precautions to ensure your health and safety are always at the forefront of how we serve you. We are offering on-site and remote estimates to respect social distancing preferences and requirements.
Current best practices also include:
Foregoing shaking hands: we will greet each other verbally without any contact.
Utilizing shoe covers to prevent tracking in contaminants when applicable.
Proper cleaning of hands with soap often, for at least 20 seconds.

Using hand sanitizer in the field when available.
Keeping a safe distance (6 feet) from others.
Cleaning frequently touched surfaces.
Exterior painting, repairs, and maintenance of your operation and/or facility should not be delayed at this optimal point in the year. We recommend that you contact us today to discuss your needs.